As most Saturday mornings go, I drank way too much Washington Apple on Friday night and woke up feeling like something my cat yacked up.



Blindly, I wander through the lair to the bathroom where my downstairs coffee pot lives.
1/4 cup fresh ground kona beans
+ 10 cup aqua
------------
100% delicious caffiene rush

I AM top barista even in a hungover state.

I'm only as good as the java I brew... which is mighty damn fine.....

Anyway...

That's when it happened. I turned around and my eyes opened just in time to catch a glimpse of the corpse looking back at me in the mirror.

Scary.

Dear God, who knew middle age would be swift and evil on a Saturday morning?

Last night's make-up looks like water paint on my face now.

SHOWER STAT!

Hot water streams down over the shower poof which is now cocked, locked and ready to rock with Black Vanilla Current body wash.

*sniff sniff*

Eyes fly open. Wide awake instantly.
YES!! A gift from the shower gods!!

Make up removed... thanks Clinique
Hair de-sprayed... thanks Aveda
Smooth legs....... thanks Soliel razors

I feel human again.

So, I proceed to dry my mop.

As a rule, my hair is short and way out of control.

Especially when I help it along with all the crap in my cabinet.

And the hair-do god looked down and smiled, and it was all good.

Now, I don't know about ya'll, but I noticed how the whole tone of my day is set forth by whether my hair behaves or not.

I mean, when I'm having a good hair day, I feel like a Disney princess prancing with my little animal friends in the forest all happy and shit.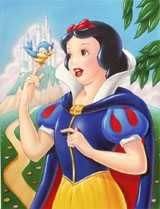 But oh hell..... look out if the hair gods don't shine down and decide to play a practical joke.

They don't know who they're dealin with...



Which brings me to this morning. Yah, the jokin started early.

I showered and blow dried and hit it up with product....

No good. Bad day.

Accept, I have a rook card in my pocket...

Abby.

The love of my life on days like these...

My hair dresser..

Abby is my hero.

This is Abby. She's always happy and she does the best scalp massage...



See, she knows me. 8 years doing my hair.

It took her 5 years and a hotline number to keep me out of the haircolor aisle at Wal-Mart.

She fixed some hellacious bad botched hair color jobs.

She works right next door from my office.

I go in there without an appointment holding scissors and a box of Wal-Mart hair color and she springs into action like the The Bionic Woman.

"Grab the box of bleach from her hands, STAT!!!" and off to work she goes, being my protector against the hair gods.

She loves me. I tip well.

Therefore I don't even need an appointment. God bless her.

The moral of the story is... be nice and tip your hair dresser well.

Chancing a bad hair day is nothing to trifle with.